Oil Tank Installation and Oil Tank Types
Quick Environmental provides oil tank installation services in New Jersey and Pennsylvania as either a single service or in conjunction with an oil tank removal. The state of New Jersey recommends installing above ground oil tanks as opposed to underground tanks because the risk of contamination to soil and groundwater is greatly reduced. 
Concerned about having an oil tank inside of your house because of the risk of leaks or fumes? No worries, every Quick Environmental indoor oil tank installation adheres to the National Fire Protection Association Code Standard 31, for the Installation of Oil-Burning Equipment in the United States as well as any local codes that may apply.
Why should you install your oil tank indoors?
Lower risk of contamination of soil or groundwater.

Outside oil tanks are subject to condensation inside the tank due to changing temperatures which can cause service problems and corrode the tank.

Oil stored in an outside tank requires additives in the winter in order to keep the oil at the correct viscosity. 

Outside tanks can become unstable due to their weight when full.

An indoor installation requires less service and is less expensive to maintain. 
If the tank installation is done along with an oil tank removal, we will have already determined with you the best location for your new above ground oil tank. Otherwise, Quick Environmental will visit your home to determine what measures need to be taken in order to safely install your new oil tank.
For a complete description of our installation process, read our Guideline for the Installation of Above Ground Oil Tanks.
Roth and Granby Above Ground Oil Tanks
Installing a safe and reliable oil tank for your home is an important safeguard in preventing future leaks. Quick Environmental installs Roth Oil Tanks and Granby Oil Tanks exclusively. We believe they are the highest quality oil tanks available.
Roth Oil Tanks
Roth Industries manufactures double-wall oil tanks. They offer the highest level of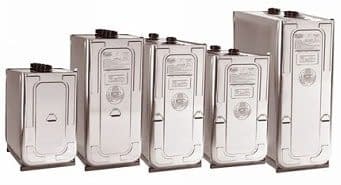 environmental protection and can be used for heating oil, diesel and bio-fuels. There are over three million Roth Oil Tanks installed across the United States and Europe.
They are up to 50% lighter than conventional steel tanks.
The inner wall of every Roth oil tank is made out of blow-molded, high density polyethylene that is seamless.
They are completely leak proof and corrosion resistant.
The outer wall of each oil tank is made out of galvanized steel and is roll seamed with an oil and fire resistant seal.
Roth tanks are one of the most reliable and safe tanks available.
Roth oil tanks exceed all current industry safety regulations and come with a thirty year limited warranty.
Tank sizes range from 110 to 400 gallons.
Roth oil tanks have a 30-year limited warranty.  This warranty change covers failure of the tank due to workmanship or material defects as well as failure of the internal tank due to internal corrosion (the manner in which all steel tanks fail).  The warranty also includes $2M of insurance against property damages caused by a spill.
For more information on Roth above ground oil tanks visit the Roth Industries website.
Granby Oil Tanks
Granby Industries is well known for their ECOGUARD double bottom steel oil tanks with leak detection system. This eliminates the risk that your oil tank could leak. 
They are built tough tanks with a polyurethane coating to help guard against corrosion.
Oil tanks carry up to a thirty year warranty.
Granby is known for their high quality products and stringent manufacturing methods that protect the environment.
Granby above ground oil tanks range in size from 275 to 330 gallons.
For more information on Granby Tanks and their entire product line visit the Granby Industries website.
Not sure which above ground oil tank is best for your installation or what size you need? We would be happy to advise you on which brand and size is best for your installation. For size, we usually recommend buying slightly larger than you need in order to take advantage of lower heating oil prices as well as lengthen the time between fills.